Bedouin Lodge Hotel :

The Bedouin Lodge Hotel is located in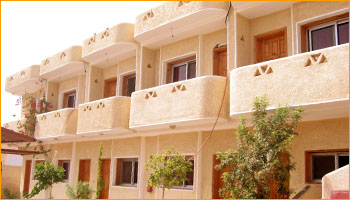 Dahab/Mashraba between the seaside promenade and the main road. Shops, restaurants, internet cafes, house reef, and even a real Hamam (Turkish Bath) are only a few minutes walk away! The owners of the Hotel & Dive Center are a Bedouin family, born and grown up in the desert around Dahab. Later the family settled to Dahab to be able to educate their children and send them to school. Therefore, all Bedouins working at the Hotel & Dive Center are familiar with the area around Dahab – which means they are offering unforgettable trips to the Sinai desert & mountains.
---
The hotel consists of 26 double and triple rooms with private bathrooms & air condition or van. Further it cooperates with a camp next doors, which is compared to others very comfortable, offering simple rooms with shared bathrooms on low rates.
As mentioned, all rooms of course having a private bathroom, some offering a balcony or a roof terrace with sea view, most rooms are equipped with air condition - others with fan.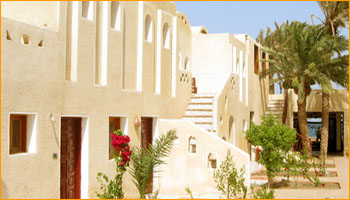 Please watch more pictures (made March 2005) of the hotel on our website - see the button "galleries" and click.

Only a few meters away from your room you will find Bedouin Lodge's own Dive Center and the restaurant, created in Bedouin style: meeting point for divers & other guests in the evening, ex-changing their news & experiences – accompanied by tasty drinks & Shisha (the Water Pipe). The new roof terrace above the restaurant is perfect for sunbathing and relaxing.
---
Tip:

Bedouin Lodge Hotel should not be the choice of people who prefer a big pool area and a sandy beach, needing a "mini club" and animation.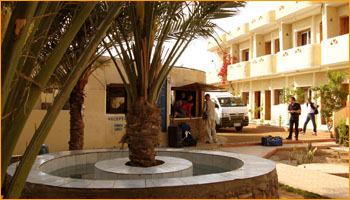 But active tourists, no matter whether diving, snorkeling, windsurfing or discovering the Sinai area will feel very comfortable.
Especially when looking for a relaxed holiday :-))
A few rooms at the base floor could be used by handicapped, using a wheel chair.